The Canadian Century: Moving Out of America's Shadow is now available in softcover for $25 and as an eBook for Kindle (Amazon) and Kobo eBook readers. Find out how to purchase it here.
Fearful Symmetry is also available in hardcover ($34.95) and softcover ($21.95). Find out more about the book and how to purchase it here.
Recent quote: MP Jason Kenney said, 'ÄúFearful Symmetry is a must-read on subject.'ÄĚ
It is always nice to see one's books mentioned in the media, but Chantal Hébert's column yesterday, which made reference to Fearful Symmetry, presented an inaccurate caricature of my arguments about the damage done to the family by the welfare state.
Contrary to Ms. H√©bert'Äôs claims, I argued (among many other things!) that it is wrong-headed policies, particularly around the institutional protections that marriage enjoyed, plus the availability of the state as a poor-quality but free substitute father/husband, that caused the decline of marriage. That decline didn't just come out of nowhere, which is how it came across in the article. And once we had changed marriage so that men were no longer reliable partners, women quite rationally reacted by delaying having children and building their careers instead, because in the case of marriage breakdown, the one thing you can reliably take away with you is your career. The result is that women end up working more than they tell pollsters they want to, and they end up having fewer children than they say they'd like to have.
As I wrote in the book, we have shifted the incentives over the years such that it is often not in the economic interests of couples to stick together 'Äď and by the way, these incentives have shifted primarily at the lower end of the socio-economic scale, so the damage caused by the policies is chiefly wrought on the most vulnerable, and the children of the most vulnerable. Surely we don'Äôt want to create circumstances where the irresponsible actions of spouses are the ones that are rewarded by public policy? That is the argument that I made in the book. And it is hardly a startling or unprecedented argument. Margaret Brinig made a similar argument several years ago for the C.D. Howe institute and Nobel Laureates George Akerlof and Gary Becker are among just a few of the noted experts in the field who have been raising warning flags in this field for some time.
And while Ms. H√©bert seems to see this as an argument to put women back in the kitchen, this is clearly a case of her rejecting the argument she wishes I had made instead of the one I in fact made. No one wants¬† a return to the 1950s, with stereotypical roles that many women have rightly rejected, nor is it in any way implying that women shouldn'Äôt have and develop their careers to the fullest. My argument is that based on what women say they want, we have created circumstances that are not on the whole what they say they would choose if they had different options. I want women to have more choices, not fewer…
On a slightly different point, I would take issue a bit with the Conservative slant she attaches to the book. I have many Liberal friends that have publicly said they like the book a lot (Rob Silver, Liberal blogger for the Globe being just one example) and not to mention my director of communications at MLI who was National Director of the Liberal Party (not once, but, twice!). Lots of other Liberals have said the same to me privately, expressing in particular concern at the harm wrought on the family over recent decades. Good policy and good ideas are the property of no political party.
My friend Matt Bufton, who is the Executive Director of the Institute for Liberal Studies, wrote a review of  Fearful Symmetry last year. The article appeared in The Lance at the University of Windsor but was only recently published on-line.  In his look at the book Bufton concluded:
'ÄúThis book is an important contribution to the public policy debate in Canada. Crowley mixes economic analysis with big ideas and enjoyable prose in a style that is all too rare.'ÄĚ
I am quoted in this Hill Times story about religion in politics.
Brian Lee Crowley, managing director of the Macdonald-Laurier Institute and author of the book Fearful Symmetry: The Fall and Rise of Canada's Founding Values, said the increased visibility of the religious right in politics is partly a reaction to a period of aggressive secularism in Western politics. He said it's a trend that's likely to continue. "We're entering an era in which faith, in the largest sense, is becoming a powerful political force," said Mr. Crowley. "People of faith in Canada are getting more involved in politics, not just Christians, I think Jews are doing it, the Muslim community is doing it, in the Sikh community, you'll find the various temples are powerful community rallying points. We're entering an era in which faith is going to be much more powerful force within politics."
On March 11 I was the keynote speaker at the Institute of Marriage and Family Canada√Ę'ā¨'ĄĘs conference on family policy. I spoke about what we know today about the relationship between the health of the institution of the family and the transmission between the generations of values essential to democracy, freedom and the rule of law. Below is the text of that speech.
In this week's Maclean's magazine Paul Wells spends a lot of time discussing Fearful Symmetry and the social policy changes it portends:
"For next steps, many conservatives are turning to Fearful Symmetry: The Fall and Rise of Canada√Ę'ā¨'ĄĘs Founding Values, a new book by Brian Lee Crowley, an economist and founder of the new Macdonald √Ę'ā¨'Äú Laurier Institute.
Crowley does not regard himself as a social conservative. But many who do see themselves that way like what he√Ę'ā¨'ĄĘs saying. To caricature a complex argument, Crowley says the modern welfare state has overextended itself, is unsustainable, and causes more harm than good to institutions like the family. These trends will only get worse when an aging population sharply increases the cost of delivering most social programs. One size can no longer fit all. Social services will have to be narrowly aimed at those who need them most, and delivered only as long as recipients are willing to improve their behaviour by attending to their family, keeping or seeking a job, and so on.
Government is no good at any of that and, in the opinion of most, shouldn√Ę'ā¨'ĄĘt try. √Ę'ā¨ŇďIt is precisely for this reason, in my view, that we have seen in both the United States and the United Kingdom a growing use of the private sector, including the not-for-profit and so-called faith-based charities, for the delivery of social services,√Ę'ā¨¬Ě Crowley writes. √Ę'ā¨ŇďSuch private agencies may be more demanding of their clientele and expect more in the way of improvements in behaviour.√Ę'ā¨¬Ě
Crowley√Ę'ā¨'ĄĘs book was published last autumn. It seems to have been barely one step ahead of the news. This month√Ę'ā¨'ĄĘs Throne Speech contained a single line saying the government √Ę'ā¨Ňďwill look to innovative charities and forward-thinking private-sector companies to partner on new approaches to many social challenges.√Ę'ā¨¬Ě Such charities and companies were much in evidence at the Manning Centre conference. The changes Crowley anticipates are expected and embraced by social conservatives.
Meanwhile, the federal Liberals are still defending policies from five years ago, policies Harper has taken pains to ensure future federal governments won√Ę'ā¨'ĄĘt be able to afford, with his GST cuts and his massive cash transfers to the provinces. If the Liberals cannot begin to make a case for a return to larger, more activist √Ę'ā¨'ÄĚ and more expensive √Ę'ā¨'ÄĚ state-run social welfare, then Stephen Harper√Ę'ā¨'ĄĘs social conservative revolution will only accelerate.
On March 11 I was the keynote speaker at the Institute of Marriage and Family Canada's conference on family policy. I spoke about what we know today about the relationship between the health of the institution of the family and the transmission between the generations of values essential to democracy, freedom and the rule of law. Below are some√ā¬† audio clips from my talk.
On 24 February, I will be the guest speaker at the McInnes Cooper Lunchtime Speakers Series where I'll be talking about Fearful Symmetry. McInnes Cooper (one of Atlantic Canada's largest law firms) has its Halifax offices at Purdy's Wharf, Tower II, 13th Floor. Call 902-425-6500 for details.
Donald Coxe, Chairman, Coxe Advisors LLC, and Strategy Advisor, BMO Capital Markets, is a well-known and influential global investment strategist, based in Chicago but closely allied with BMO, giving him a high profile in Canada in particular.
Coxe does a regular conference call to brief clients and others about his view of where markets are going. In his call of February 5th, in honour of the Olympics, he gave a strongly Canadian spin to the discussion, focusing on the many reasons why Canada did so well in the recession and why its economic future is relatively bright. To introduce the discussion he spent some time talking about Fearful Symmetry and how it helps people to get a good grasp of the unique circumstances that await Canada as the coming labour shortages and demographic change really start to bite.
His commentary is on-line and available until the next one is posted on February 19th.
Here is a short excerpt: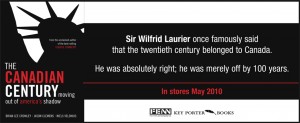 Coming soon: the sequel to Fearful Symmetry
I have had the great good fortune over the last 6 months to work with co-authors Jason Clemens and Niels Veldhuis on a new book that is essentially a sequel to Fearful Symmetry: "The Canadian Century: Moving Out of America's Shadow". This will be the first book of my new national think tank, the Macdonald-Laurier Institute, and will be published by Key Porter. Here is the blurb from Key Porter about the book, which is due out in May, 2010:
One hundred years ago a great Canadian, Sir Wilfrid Laurier, predicted that the twentieth
century would belong to Canada. He had a plan to make it so.

What happened? Canada lost sight of Laurier√Ę'ā¨'ĄĘs plan, and failed to claim its century,
dwelling instead in the long shadow of the United States.

In a bold, fascinating and thought-provoking call to arms, Crowley (author of the
national bestseller Fearful Symmetry) and co-authors Jason Clemens and Niels Veldhuis
envision Canada√Ę'ā¨'ĄĘs emergence as an economic and social power. While the United States
has been squandering its advantages √Ę'ā¨'ÄĚ including making a series of bad decisions that
precipitated a global economic disaster from which it struggles to emerge √Ę'ā¨'ÄĚ Canada finds
itself on a path leading out of the shadows and into a new prosperity that could √Ę'ā¨'ÄĚ if we
stay the course √Ę'ā¨'ÄĚ make us the envy of the world.

It won√Ę'ā¨'ĄĘt happen without effort, however. We must be prepared to follow through on
reforms enacted at the end of the twentieth century, completing the work already begun.
If we succeed, Canada can and will become the economic outperformer that Sir Wilfrid
Laurier foretold, a land of work for all who want it, of opportunity, investment, innovation
and prosperity. America√Ę'ā¨'ĄĘs performance, by contrast, risks trailing ours until they
embrace Canadian-style courageous and far-seeing reform.

Laurier did indeed predict the Canadian Century. He was absolutely right; he was
merely off by 100 years.

Brian Lee Crowley is the author of the national bestseller Fearful Symmetry: The Fall and Rise of Canada√Ę'ā¨'ĄĘs Founding Values. Crowley is Managing Director of the Macdonald-Laurier Institute for Public Policy and is a frequent commentator on political and economic issues for the CBC, Radio-Canada and many other media. His website is www.brianleecrowley.com. He lives in Ottawa.

Jason Clemens is the director of research at the Pacific Research Institute in San Francisco, where he specializes in fiscal policy. His articles regularly appear
throughout Canada and the United States, including the Globe and Mail, the Financial Post, the Washington Post and The Wall Street Journal. He lives in San Francisco.

Niels Veldhuis is vice-president and senior economist at The Fraser Institute. He also
writes a bi-weekly column for the National Post and appears regularly on radio and television
programs across the country. He lives in Vancouver.